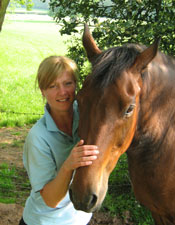 Jacky Clarke, Managing Director, is a fully qualified, registered, experienced and insured Equine Behaviour Consultant. She is professionally qualified with one of the worlds leading experts, Dr Debbie Marsden, who is internationally recognised.  Jacky is listed on the UK register of Equine Behaviour Consultants and provides a nationwide service.
Jacky has a lifetime of equine experience, both professionally and for pleasure having learnt to ride from the age of 5, owning and competing horses since the age of 12. She has worked in several equine spheres including racing, eventing, dressage, show jumping and pleasure horses. This invaluable knowledge and experience is combined with the latest in behavioural science.
Jacky is also a professionally qualified and practicing in Equine Muscle Release Therapy (Bowen Therapy for horses) dealing with differing physical problems in many horses ranging from the family pet to the top competition horse. Website address for more information www.bowenjc.co.uk
During her professional career Jacky has encountered many people who come up against challenging behaviour from their horses, sometimes leaving few options which can be very distressing to the horse and owner. With the correct professional help and advice situations can be resolved with a successful result. Jacky is passionate about helping people and their horses to find a positive outcome.
Jacky works closely with veterinary surgeons and other equine professionals, working to a strict code of conduct and ethics, respecting confidentiality at all times.
Jacky also takes a particular interest in animal welfare and currently has an injured, rescued ex-racehorse in her care which she is rehabilitating.